COVID-19 Policy/Procedures Update – ReOpening
We are opening for routine dental care appointments on June, 9th!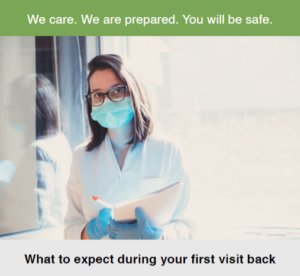 We hope this letter finds you and your family in good health. We have sincerely missed our patients and are so excited to start back up again!
As we open back up, we want to ensure our staff and patients that we follow infection control procedures that are current and adhere to the American Dental Association (ADA), the U.S. Center for Disease Control (CDC), and the Occupational Safety and Health Administration (OSHA recommendations).
You may see some changes when it is time for your next appointment.
We made these changes to help protect everyone. That might mean that you are offered fewer options for scheduling your appointment to allow for social distancing between patients. Thank you for your patience as we learn to navigate this new normal.
Please note some new practices in new daily routines:
Prescreening Questions – Our office will communicate with you beforehand to ask some screening questions in which you will be asked those same questions again when you are in the office.
Check-in for your appointment from your car- Please arrive 15 minutes prior to your scheduled appointment time. We ask you to wait in your car and call our office $PHONE$ when you have arrived. One of our team members will call you when we are ready for you to enter the office.
Wearing a mask – We require that every person entering our office wear a mask. Let us know when scheduling if you are not willing to do this as we will happily schedule an appointment for a later date when masks may no longer be necessary.
Keeping it solo – We are asking that each patient come to their appointment alone. Of course, if you need special assistance or are a child, we will allow one additional person (with a mask).
We look forward to seeing you again and are happy to answer any questions you have about the steps we take to keep you, and every patient, safe in our practice.
If we have canceled your dental appointment previously, please be patient with us as we continue to call our patients to reschedule your dental appointments.
Thank you for being our patient. We value your trust and loyalty. See you soon!
Dr. Allan L. Bergano and Staff